Let us begin with a few words of caution about the 2019 Atlantic Hurricane Season. Prepare for the worst and hope for the best. Know your flood risk to prevent uninsured losses, minimize unwarranted expenses, and protect the value of your property.
Experts predict a 2019 season, June 1 through November 30, of "near-normal" activity: up to 15 named storms, eight hurricanes, and four major hurricanes.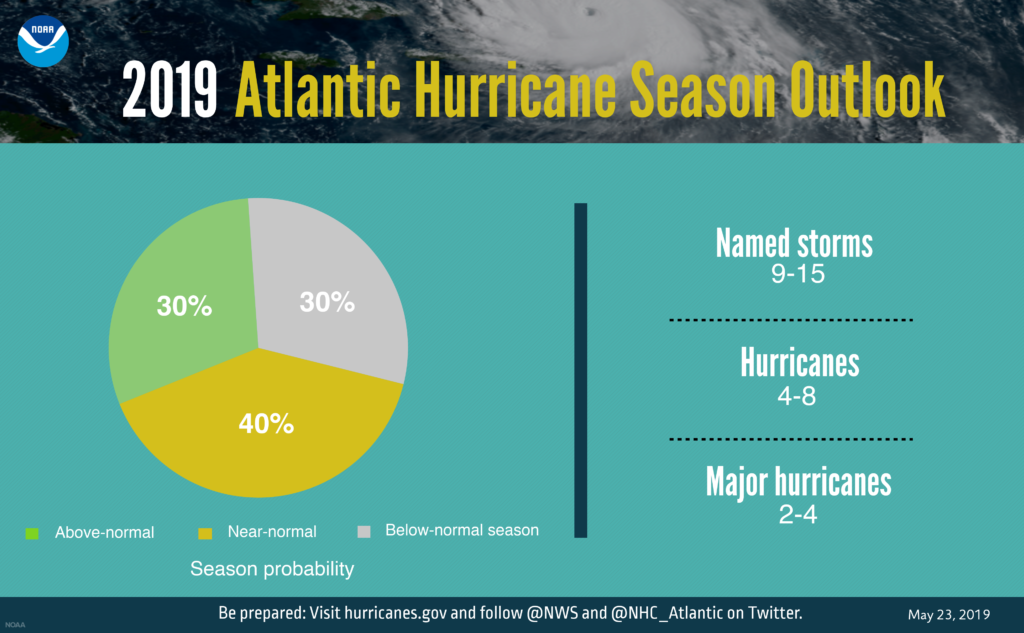 A season of  "near-normal" activity, according to NOAA (The National Oceanic and Atmospheric Administration),
has the highest chance of occurring (40%), followed by equal chances (30%) of an above-normal season and a below-normal season. See NOAA definitions of above-, near-, and below-normal seasons. The Atlantic hurricane region includes the North Atlantic Ocean, Caribbean Sea, and Gulf of Mexico.
During an average hurricane season, the Atlantic sees about 12 named storms, including six hurricanes and three major hurricanes. Last year's season was above average, with 15 named storms, including eight hurricanes, of which two were major — the destructive hurricanes Michael and Florence. [Source: Livescience.com]
Whether the season is average, above normal or below normal, our annual list of flood risk tips can help keep homes, businesses, and loved ones safe.
Tips for the 2019 Atlantic Hurricane Season
Be aware of flood control systems and structures in your community. Don't be embarrassed to call City Hall or the appropriate municipal department to ask about the maintenance and operational status of floodgates, flood barriers, levees, dams, dikes, and seawalls.
Check the drainage around your property.  Ensure that water has a path to flow away from structures and into a swale or street drain.
Keep storm drains clear of trash and landscaping debris. In compromised drainage systems, water has nowhere to go but up, resulting in flooding of streets, lawns, and possibly buildings. Even low-risk buildings that were built responsibly to protect against flooding become high risk when drainage systems are clogged or blocked.
Be sure that proposed enclosures or other alterations meet with local floodplain regulations. Before enclosing nonliving areas of a building or home, it's a good idea for a property owner to confer with local building officials to ensure that the proposed enclosure will be safe from flooding. Patios, garages, balconies, and other nonliving areas are not designed to protect against flooding as much as planned living areas.
If you own or operate a business, an asset management system will help you weather the aftermath of a storm and ensure that you have detailed and accurate information when filing a claim.
For more information on the 2019 Atlantic Hurricane Season, reference the video and links below.
Scientists are predicting a near-normal Atlantic hurricane season this year, with two to four major hurricanes reaching at least Category 3 status, with winds of 111 mph (178 km/h) or higher, the National Oceanic and Atmospheric Administration (NOAA) announced today (May 23). But this "near-normal" description doesn't mean people in the U.S.
The 2019 hurricane season is expected to be "near normal," with two to four major hurricanes predicted.
Disasters + Preparedness | How to prepare for hurricane season
Everyone needs to be prepared for the unexpected. Your friends and family may not be together when disaster strikes. How will you find each other? Will you know if your children or parents are safe? You may have to evacuate or be confined to your home.
Are you prepared for the 2019 Atlantic Hurricane Season? Take a proactive step to protect your home or business. Submit your property for a complimentary flood risk evaluation.